Although not recommended to achieve the best audio quality and fidelity, the answer is, YES, you can stream Rockbot through a Bluetooth speaker.
Important Note: Rockbot Players are not Bluetooth compatible.
What is Bluetooth?
Bluetooth is a wireless technology standard for exchanging data between fixed and mobile devices over short distances using short-wavelength UHF radio waves in the industrial, scientific and medical radio bands, from 2.400 to 2.485 GHz, and building personal area networks.
Wikipedia
What you will need:
Wifi or Cellular Data connection
Devices no further than 30 ft apart
An Android or iOS device - phone or tablet
Instructions:
Step 1 - Download the Rockbot Remote App
Go to the App Store and make sure you download the Rockbot Remote App for business (vs. the Rockbot Request App for DJs). You will need this app downloaded to stream and control the music.

Step 2 - Turn on Bluetooth
iOS Instructions - Click Here
Android Instructions - Click Here
Step 3 - Pair Devices
Make sure your Bluetooth accessory is powered on and in "Discoverable" mode. ...
Launch the Settings app.
Tap Bluetooth.
Tap the name of the device you want to pair with.
Step 4 - Start Rockin'
Once your phone/tablet has been paired with your Bluetooth speaker, just open up the Rockbot Remote App and hit play!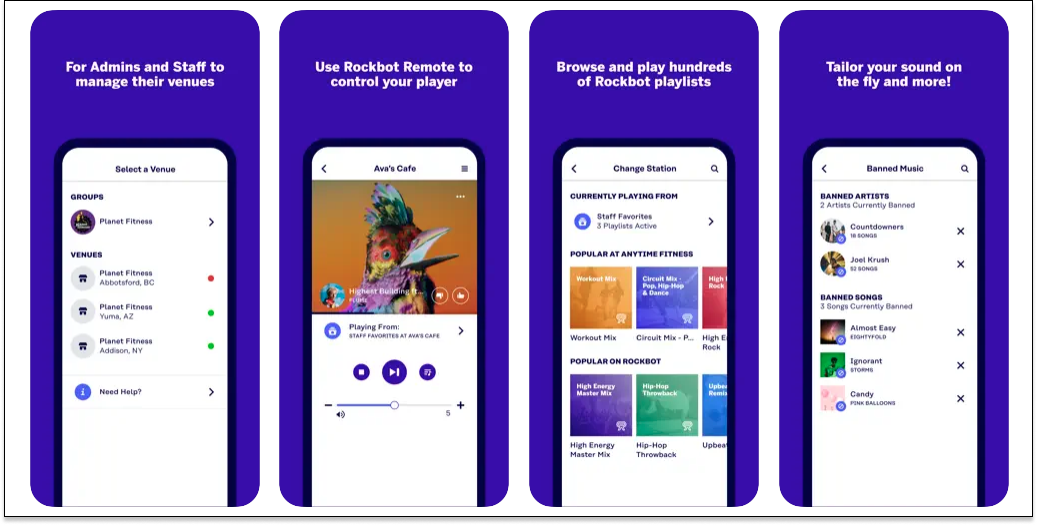 If you have additional questions Click Here to submit a Support Request Ticket.