The Campaign builder is ground zero for creating and editing Campaigns. It can be launched by creating a new campaign, either from the Asset Library or the Campaign Browser. You can also click on a campaign's name in the Campaign Browser to launch the builder and edit an existing campaign.
If you have already added Assets to your Campaign, they will show up immediately when you load the Campaign for the first time. You can also add assets to your campaign at any time using the "Add Assets" Button in the Campaign builder.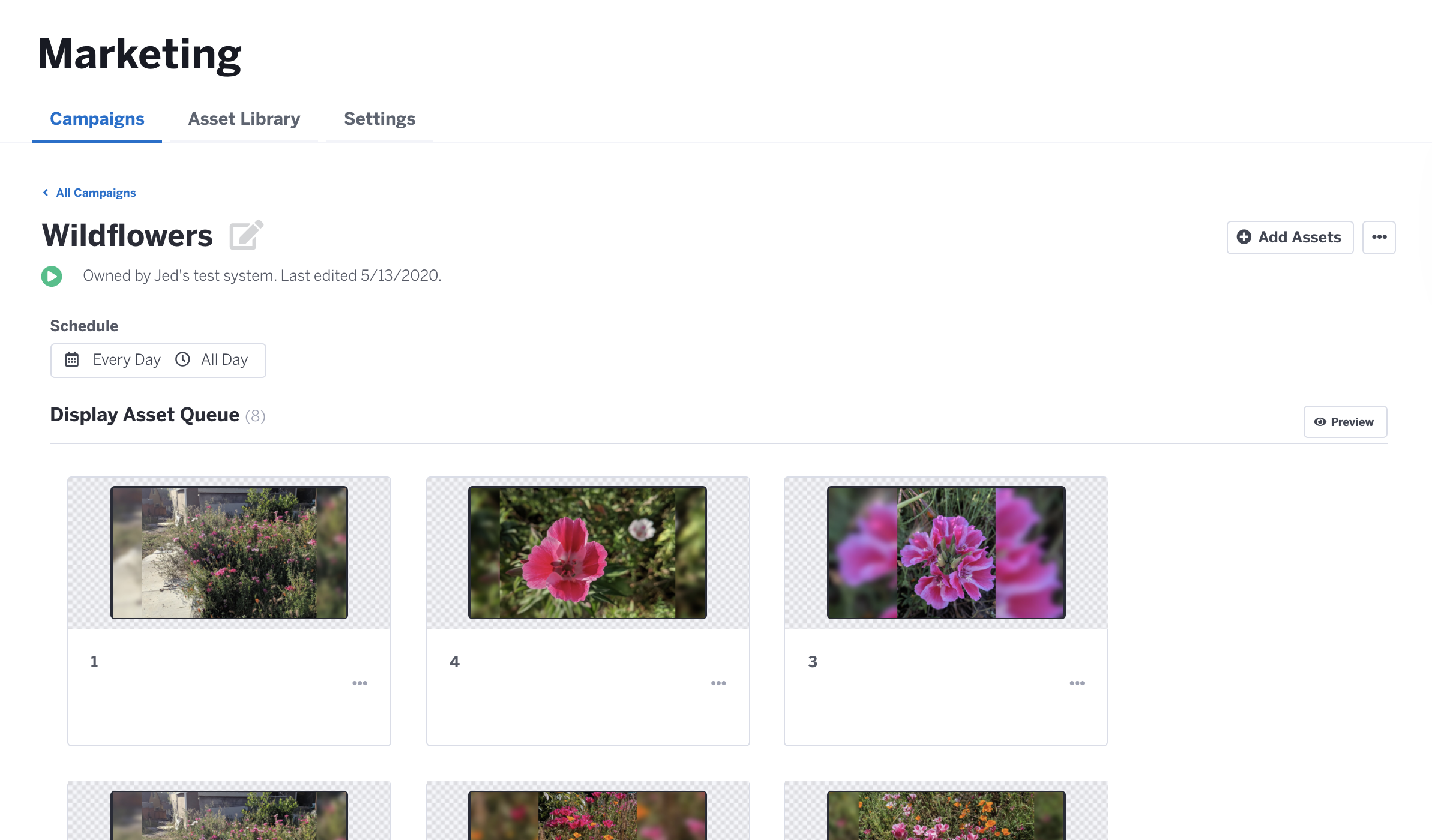 Once your Assets are in place, you have several configuration options available.
Editing Assets
You can launch the asset editor by clicking on the "more" menu (the three dots "...") on each asset. This will return you to the asset library and launch the asset editor window.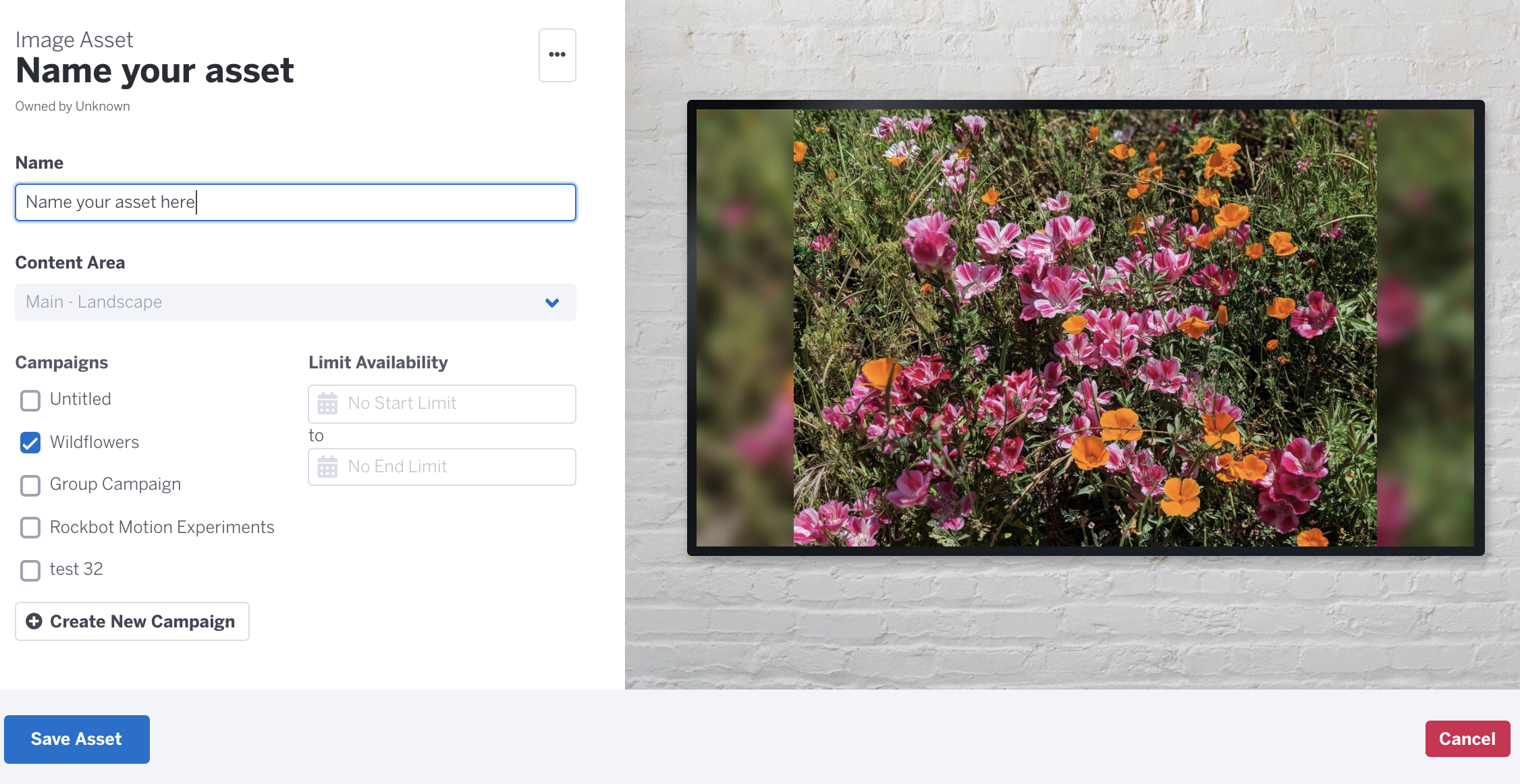 Note that changing an Asset will update it everywhere and impact all campaigns it is part of.
Display Orientation
At setup, Rockbot records the orientation for each Display in your zone. If that orientation changes, you should be sure to update it in the Rockbot configuration. We use this information to insure that the correct assets are routed to the correct displays.
If an asset in your campaign has the wrong orientation for a given display it will be automatically dropped from the playback order for that display. If your deployment includes displays in both landscape and portrait orientation, you can take advantage of this by including both landscape and portrait versions of assets. As the campaign play, Rockbot will automatically drop the version of the asset with the wrong orientation from the order for each display and play the Assets that match each screen.
Publishing Campaigns
Until your Campaign is Published it exists in a Draft state where only you can see it. Once a campaign is published, other users will be able to see it and (if they have appropriate permissions) edit it.
When you publish a Campaign you will be asked to confirm all of the configuration options and have the option to either go back and make changes or go ahead and publish. <screenshot>
If you are on the Group version of the Marketing tool, Publishing will also give you an option to confirm which Zones and Locations are Subscribed to the Campaign.
Scheduling Campaigns
Scheduling campaigns determine when they will appear. Scheduling uses the same standardized format as popular Calendar applications from Google, Apple, and Microsoft and supports a high degree of complexity.
The most basic schedule is "Every Day" and "All Hours", which will make the campaign begin running immediately and have it play as long as your business is open.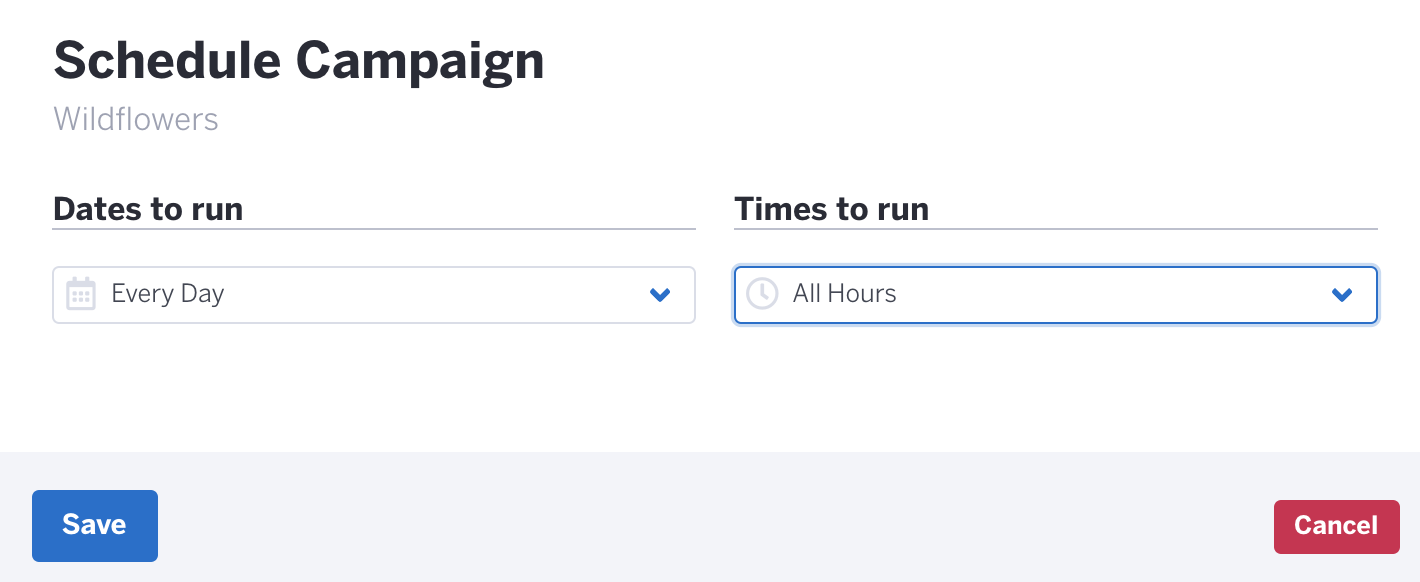 You can also set a start date in the future, to schedule your campaign to begin on that date. Opting to leave the end date blank means the campaign will run indefinitely. We call this an "Evergreen" campaign. If you do add an end date, the campaign will automatically end and be moved to the Retrospective phase once it reaches that date.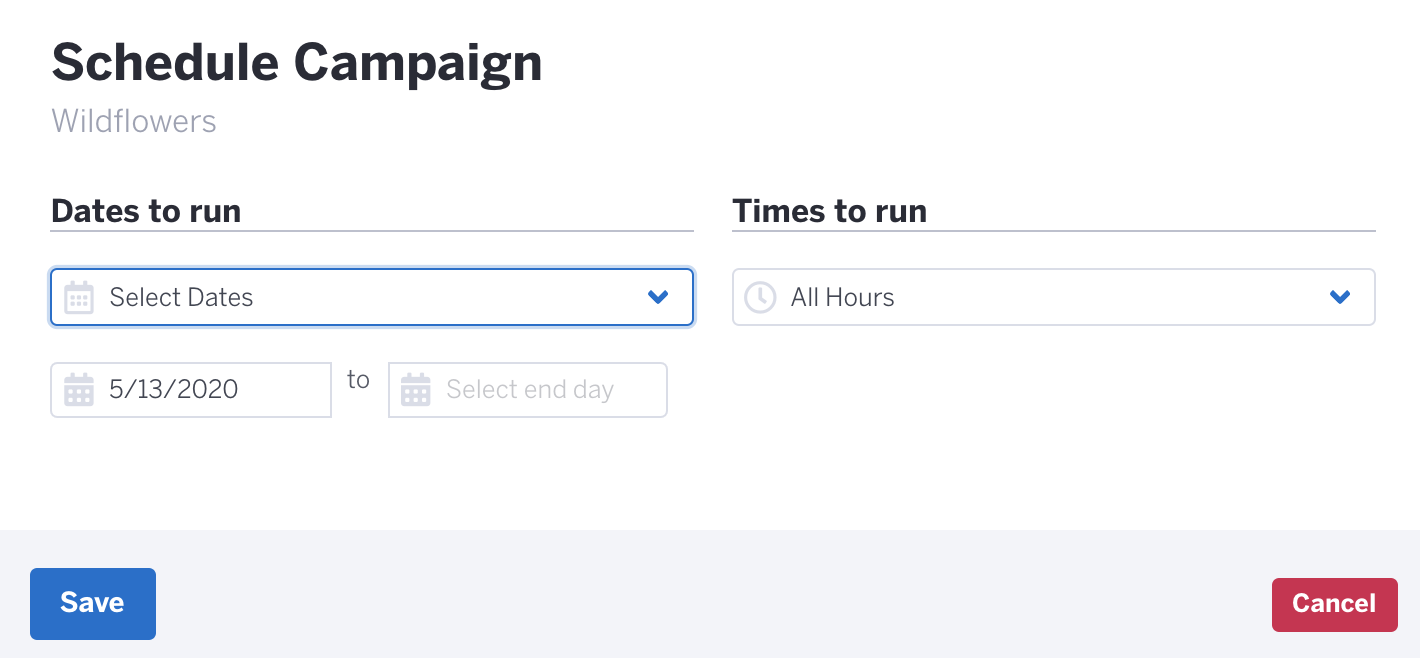 In addition to setting date ranges, you can limit your campaign to specific hours of the day, making it easy to set up a campaign for a special that runs 8-11am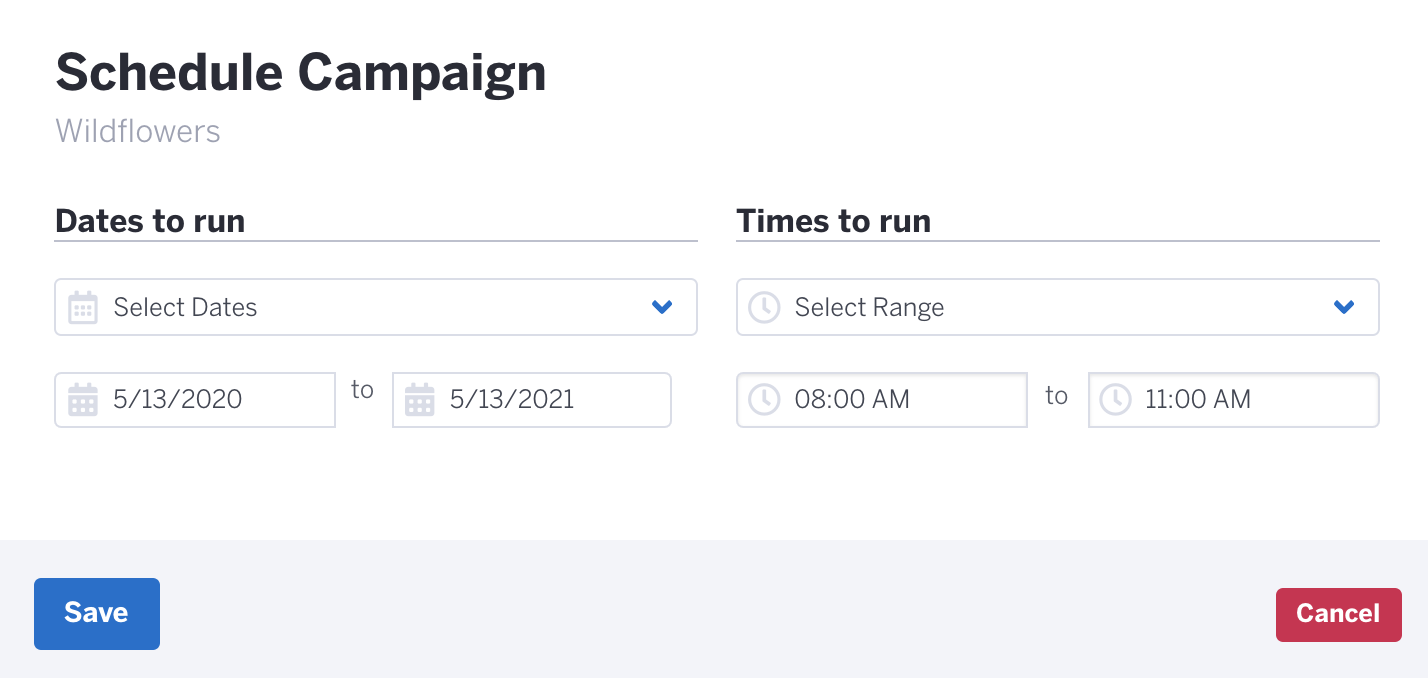 In a future version we will add the ability to schedule campaigns to run on specific days of the week or days of the month
Subscribing Zones to your Campaign
If you are on the Group version of the Marketing tool, you can set your Campaign to run across your entire group or a specific subset of Locations and Zones within your group to "subscribe" to it. This is accomplished using the Location Selection dialogue.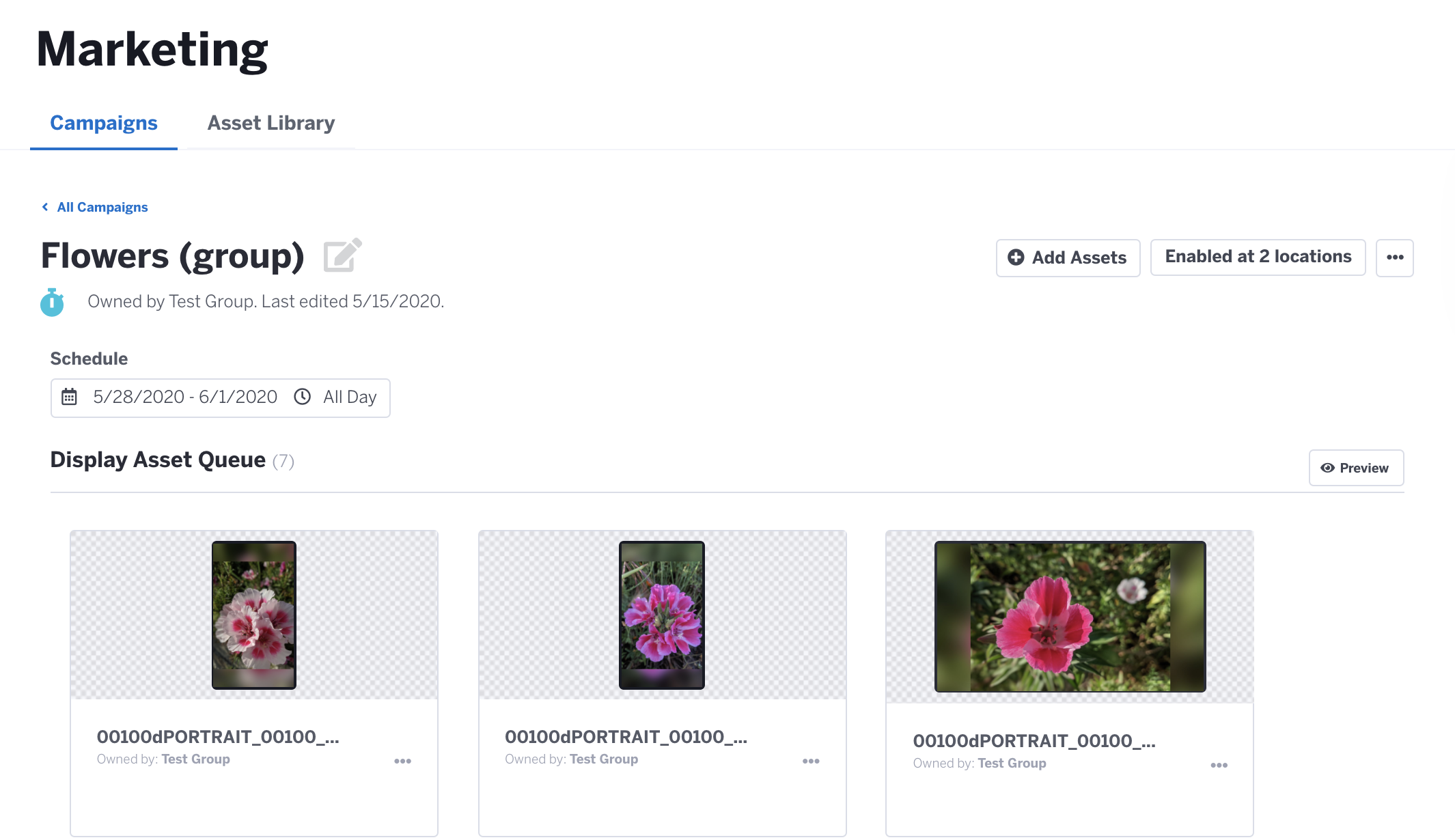 Clicking the "Enabled at X Locations" button launches a dialogue to select where the campaign will run. You have the option to select the entire Group, select all Zones, de-select all zones, or pick and choose.

Note that a Campaign that is Published and Scheduled but has no active Zones available will not be active anywhere until one or more Zones are subscribed. This is intentional and allows you to create Campaigns that your local managers can opt into without setting them to run by default.