In addition to our hundreds of manually-curated and AI-generated Playlists, Rockbot gives you the ability to create your own custom Playlists.
Creating Playlists
To create a new Playlist from scratch, click the

button in the Playlist browser, and use the dialogue to set the Playlist owner, title, and description. It is best to make the owner the business or group so that more people within the business have access to it.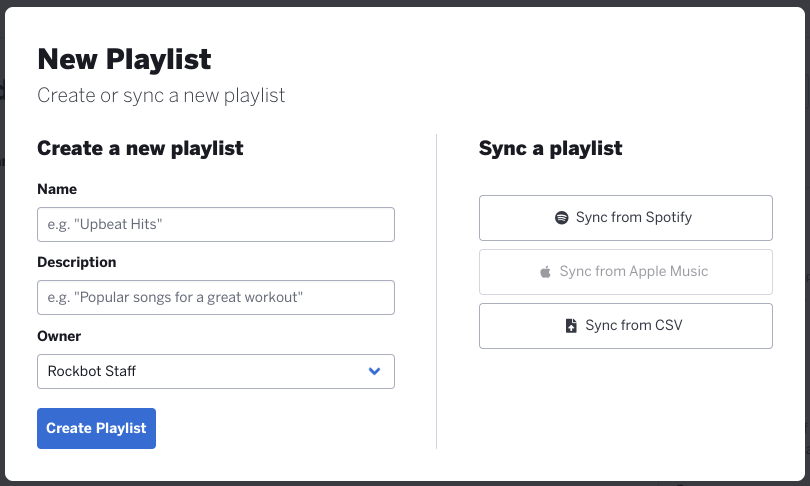 You may also use the 'New Playlist' Button to sync Playlists from external sources like Spotify and Apple Music, and edit them in Rockbot by adding or removing tracks.
Synching one of your personal Playlists from a consumer service like Spotify or Apple Music is a great way to jump-start your Rockbot Playlist creation process. When you import the playlist, Rockbot will match them to the songs in our database. If we're unsure of the correct match during that process, you'll be prompted to pick from a list of available options. And if we don't have the right match right now, we'll add it to your Playlist if and when it becomes available.
As you decide what to sync that the requirements for a business Playlist are different from a personal Playlist. For starters, a business Playlist typically needs to play for much longer and have enough variety to avoid becoming repetitive even when it is played every day. For that reason, we strongly recommend using our tools to build out your Playlists once they are synched. Content does not re-sync back to your Spotify or Apple Music so any adjustments on Rockbot will not effect your personal playlists.
When you create a new Playlist or go to edit an existing Playlist you have permission to edit, you will be brought to the Playlist Editor.
The Song Browser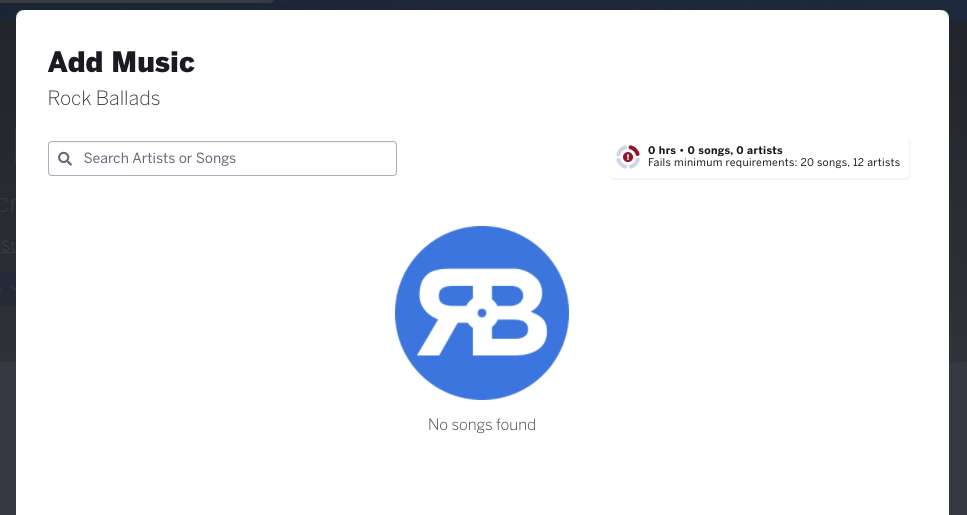 When creating a brand new Playlist you will be launched directly into the Playlist Editor's Song Browser modal. Since the Playlist is completely empty, there will not be any suggestions yet. Searching in the Song Browser will return results based on artist name, song name, and genre classifications. Once you start to populate your list, this dialogue will launch pre-populated with suggestions for songs included in similar Playlists.
Searching for an Artist will prompt a dropdown menu showing possible matches.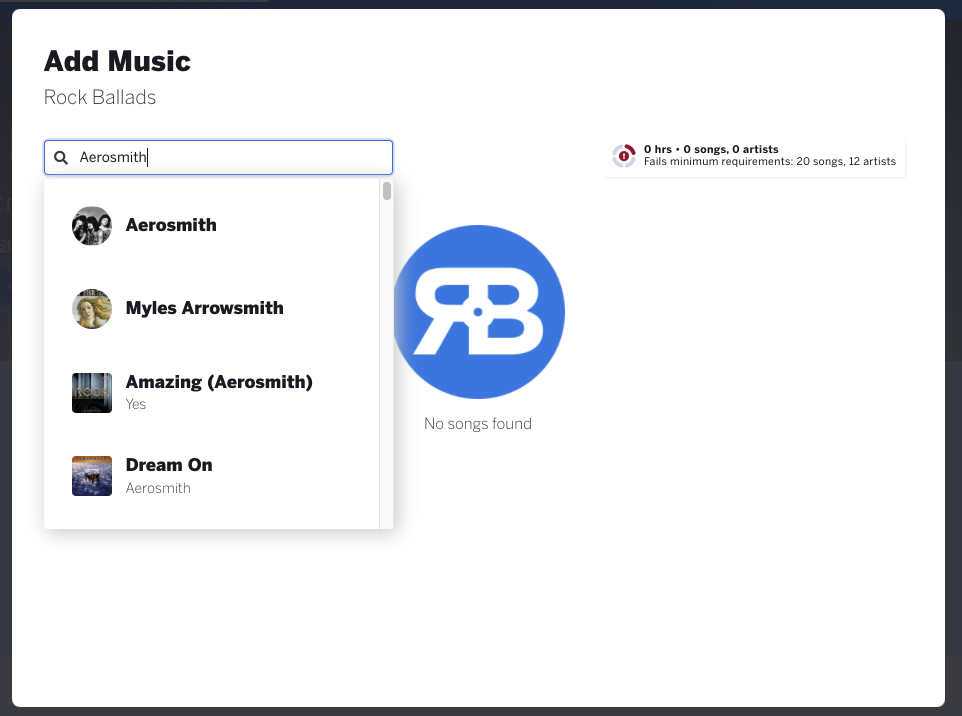 Clicking on an Artist will show all songs in the Rockbot catalog by that Artist.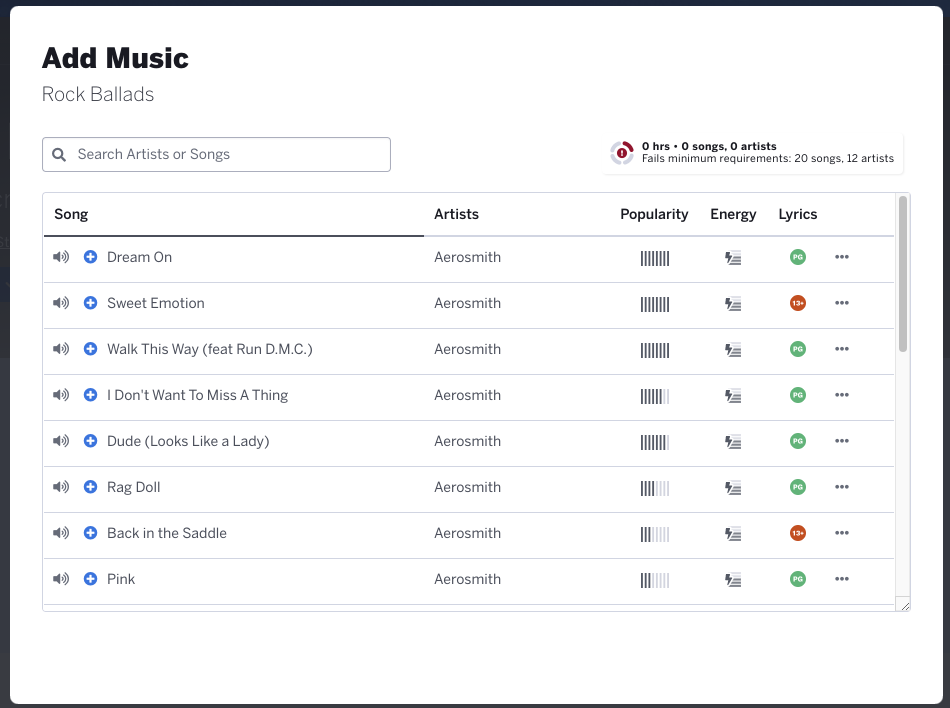 Search results and suggestions are previewed and sortable by Popularity, Content Rating, or Energy Level.
You may add individual tracks by clicking the + (plus) to the right
Searching for a song title shows a similar list of suggestions. Clicking on singular song adds it directly to your Playlist. You can also hit the enter on your keyboard after typing in a song name and see a wider range of matches.
As you add songs to your Playlist, the Song Browser will update to show what you have added. If you add the wrong song by accident, you may remove it by clicking the - (minus) sign next to it in the list.
Many popular songs have been recorded multiple times or covered by multiple artists. If you're unsure if you've found the best match, you can preview the track and play a 30 second clip by clicking the speaker icon. This will launch an embedded mini-player.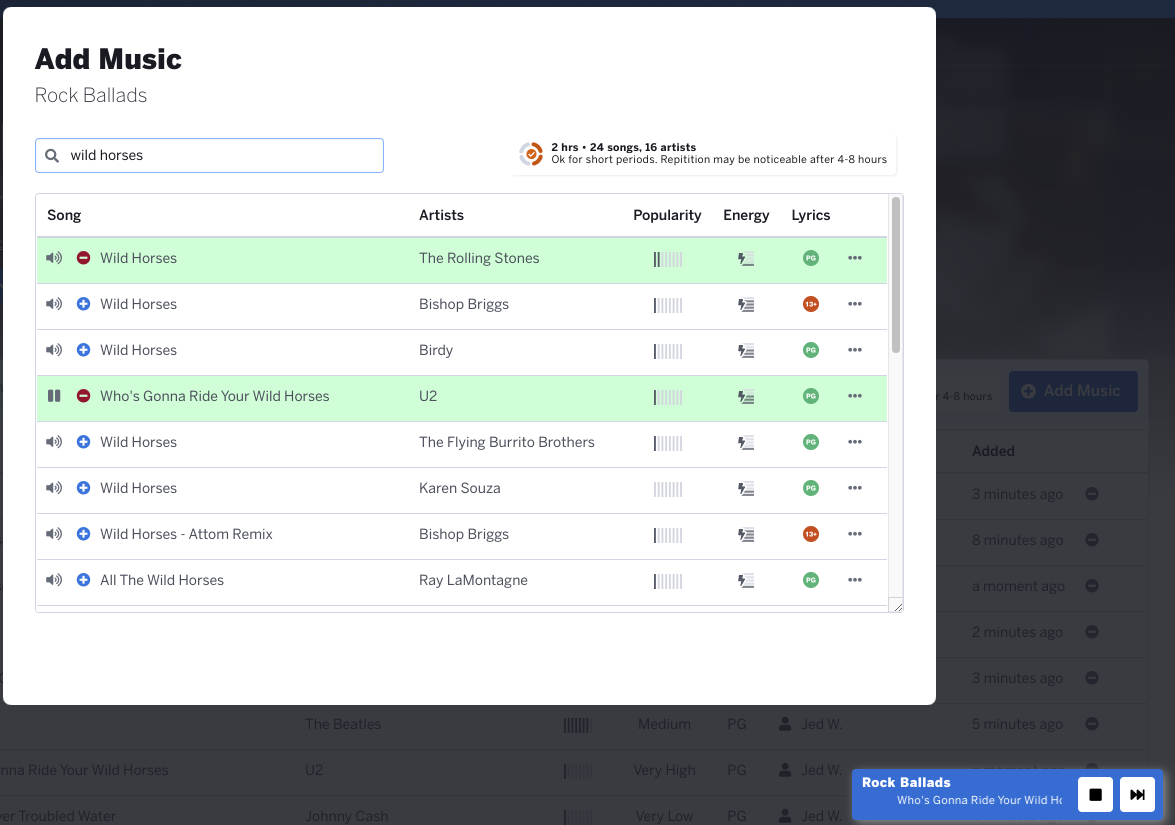 As you add tracks, the Playlist Progress bar will update with the length of your Playlist and a health indicator for how much content you need to add before you can schedule it safely.
You can refresh the list of suggestions by clicking "More Suggestions" link at the bottom left of the window."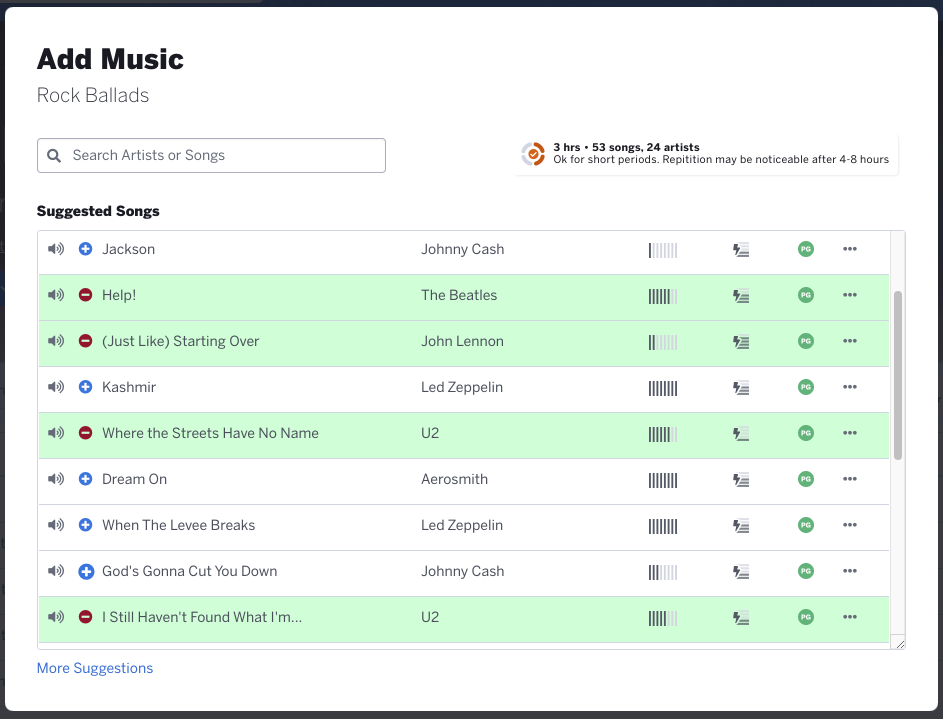 Exiting the Song Browser brings you the Playlist Editor's main interface. You can re-launch the Song Browser at any time by clicking 'Add Music'.
Playlist Editor
The Playlist Editor lets you see exactly what music a Playlist contains. From here, you can browse and preview tracks, add the Playlist to a schedule, or customize it.

Songs in the Editor view are organized based on their attributes. By default they are sorted alphabetically.
Clicking on the column headings will allow you to change the sorting to
Title
Artist
Popularity across Rockbot
Energy Level
Lyrics (Content Rating)
Source (who added it)
When it was added
The progress indicator shows you how long a Playlist can play without being repetitive and will give you an indicator of the overall health of the Playlist.
If you change the Content Ratings setting for your Zone or Group, your Playlists will automatically be filtered to match that rating. For example, if you set your max rating to PG-13, explicit tracks that have a radio-edit version available will automatically be replaced by the radio edit version. Explicit tracks with no radio edit available exceed that limit will be automatically filtered out.

Tips for building your Playlist.
Due to licensing restrictions, Rockbot cannot play multiple songs from the same artist in a row. This means Playlists need a variety of both songs and artists to work well and avoid repetition.
Playback within a Playlist is always randomized due to licensing restrictions for a background music service. Songs with more user upvotes will play slightly more frequently. If you have Request enabled we'll even tune that playback frequency based on the preferences of the Rockbot app users in your business at the time.
Request is a paid add-on for Rockbot Music that allows your customers to get actively engaged in the music at your business by requesting and voting for the music they want to hear within a brand-safe framework. This means that if your lyrical content maximum is PG-13, a customer may not choose a rated R song.
How big a Playlist needs to be ultimately depends on how long you are going to play it for. We recommend a minimum of 200 songs for a Playlist that will play for 8 hours - and even that will quickly become repetitive. The Rockbot system will not allow the scheduling of Playlists with fewer than 20 songs and 12 artists.