Channels on Rockbot are similar to cable TV content, with standard, syndicated content or live streams, that you may play in your business over the course of the day. We add new channels regularly, so it's worth checking back periodically.
You can use filters to quickly sort through the browser and find the right content for your business.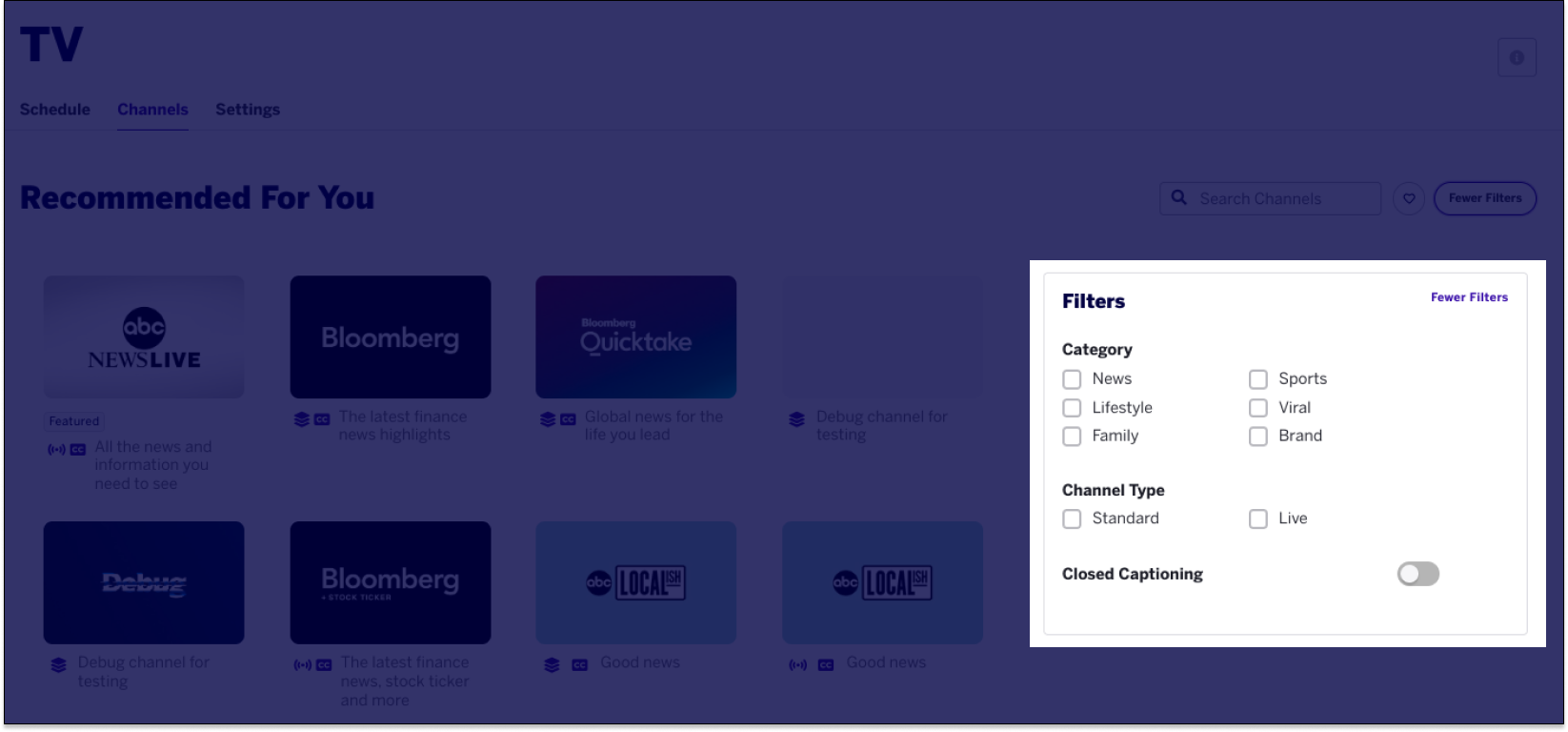 Depending on your organization's settings, you may be restricted to only approved Channels. These restrictions may be edited or removed by users in your organization who have the sufficient permissions.
Bandwidth Considerations
Live video uses significant bandwidth and can experience degraded performance if your connection is interrupted. To mitigate this, Rockbot TV's Standard channels have been optimized for business settings where many things can impact your bandwidth. Your Rockbot Player automatically caches segments from scheduled Standard channel(s), and will fall back to playing those saved segments if your connection is interrupted. This ensures smooth and continuous playback even during an unexpected outage.
Rockbot's Live channels stream continuously and provide a more traditional live TV experience, but do not support caching. You can filter between Standard and Live channels in the Filters to find the right content for your business.
There are a number of issues that could cause bandwidth issues.
Poor signal strength from a wireless router. This can be caused by issues with the router itself, a firewall that blocks signal, or just physical distance between your wireless player and router.

A crowded network. This is common when you allow customers to access the same wifi that you're using to power your players.

Not enough bandwidth. Internet services vary dramatically in the bandwidth they provide and Rockbot has no control over your local internet provider. Overloading your ISP's bandwidth constraints by attempting to stream too many things at once can all negatively impact performance.
Rockbot automatically monitors your available bandwidth and will adjust to optimize performance against the bandwidth available. However, no amount of Rockbot optimization will compensate for a local network outage in your place of business.
In the event of such an outage, Rockbot is built to gracefully fall back to the clips stored on your local player. If you find your Rockbot TV is repeating the same few clips, it's probably because your player has become disconnected and is playing from cached content. Once your connection is restored, streaming will automatically resume as normal.
If bandwidth is an issue at your location, we strongly recommend any channel that isn't live to ensure smooth and continuous playback.