In the new version of Rockbot Music, Schedules replace 'Stations'. If you used an older version of Rockbot previously, your pre-existing Station or Stations have been automatically converted and ported over with all content intact.
A Schedule stores what music plays when over the course of a single day. At minimum, it can be a single Playlist that goes all day, but you can also space different playlists out for different times of day and overlap as many playlists as you want to add more depth to your music and avoid repetition.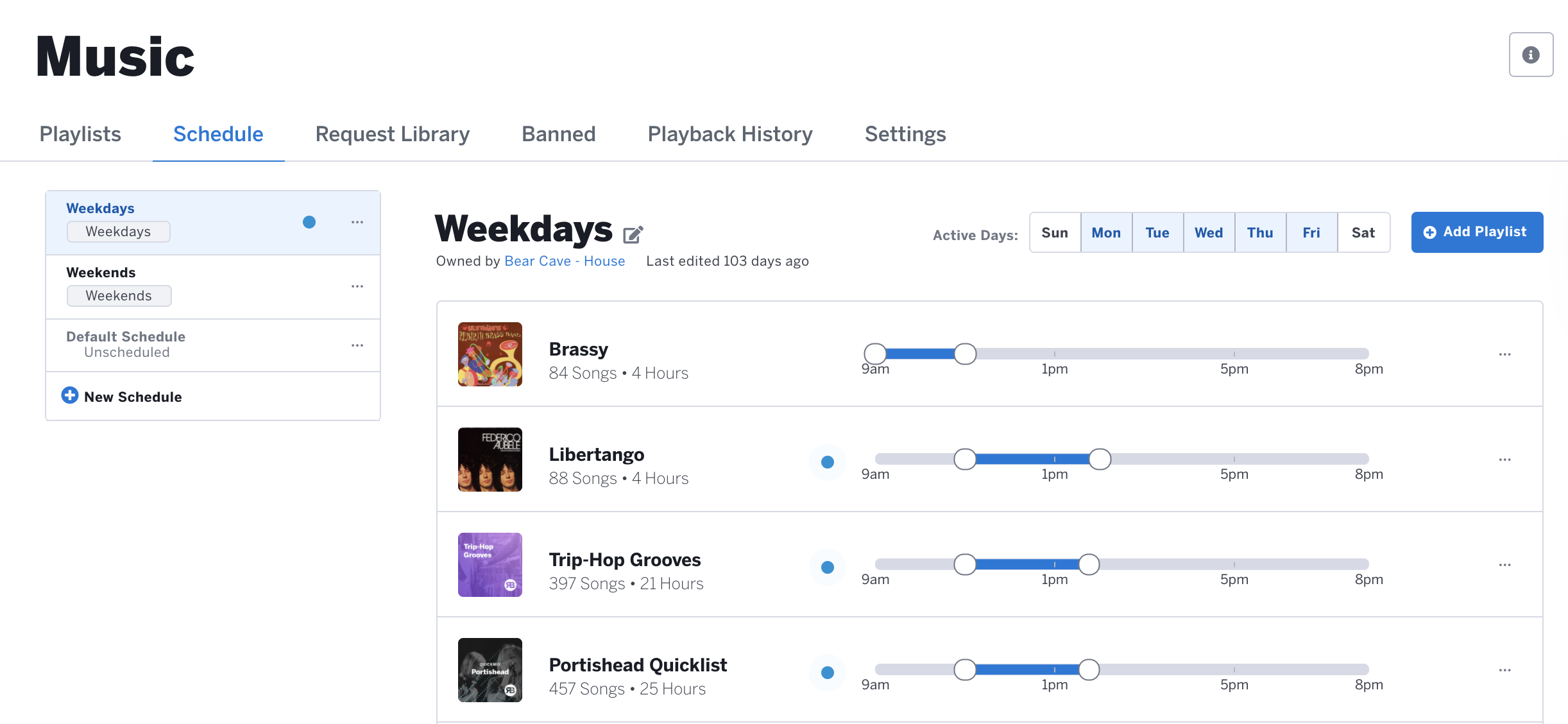 Restrictions
Depending on your organization and permissions, scheduling will be set up 1 of 3 ways:
You have full permissions to create schedules and apply them to days of the week.
You do not have permission to create your own schedules, but can choose which of the schedules created by your group to apply.
Scheduling is managed by the groups and is entirely disabled at the Zone level.
Creating Schedules
Adding Playlists to your schedule is the fastest and easiest way to customize your sound and prevent repetition. We recommend building out your Default Schedule first since this is the schedule that will always play as a fallback. In fact, for many businesses that do not need variety from one day to the next, the Default Schedule is the only one they use.
The start and end times for your music Schedule will be based on the earliest start time and latest end time you have configured in your Music Hours setting.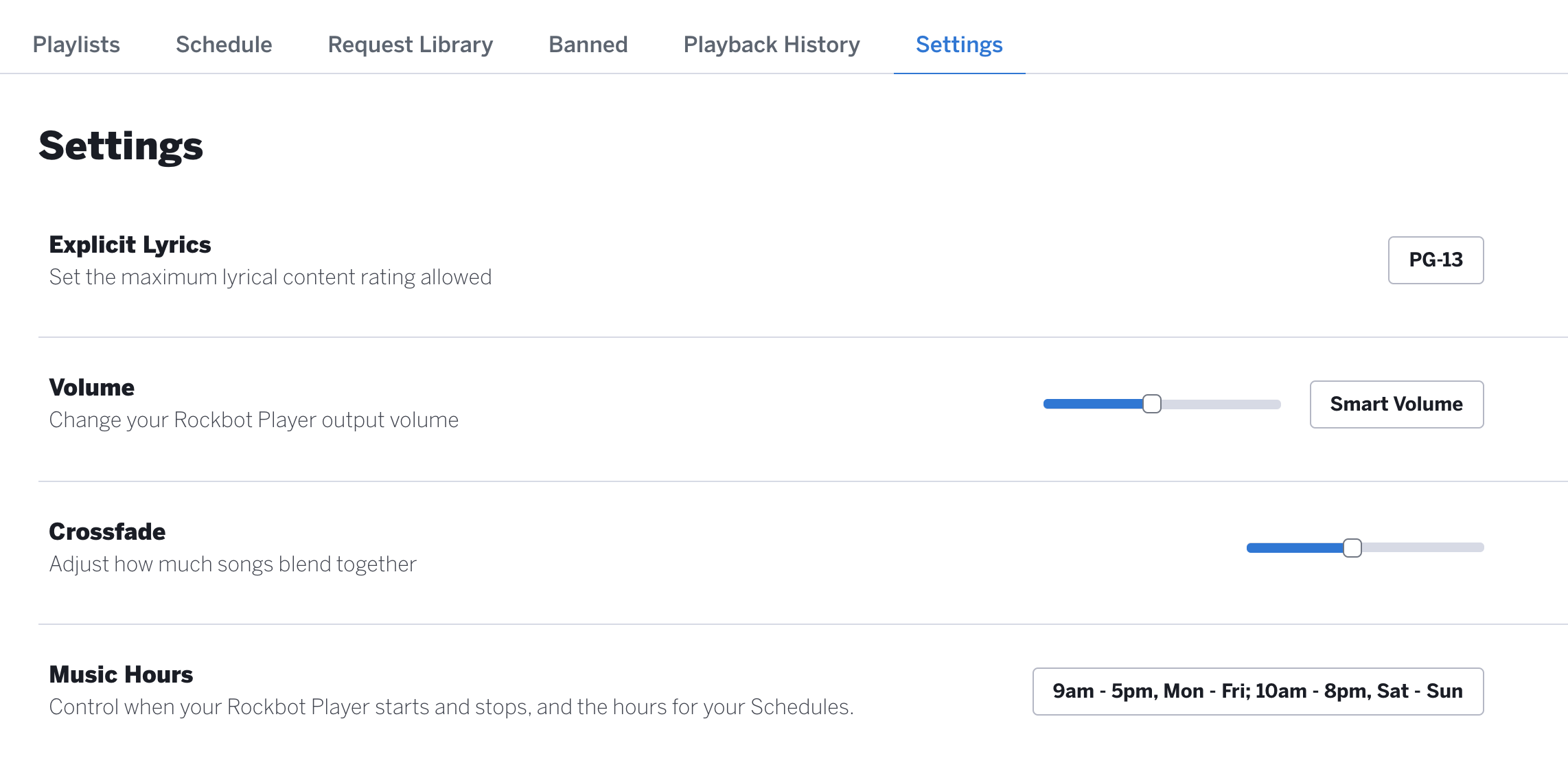 If you manually start or restart music after hours (for a special event, for example), the system will default to the music you had set to play at closing, but of course you can always Override your active playlists to set the mood.
Editing your Schedules
Once you have selected a Schedule to edit, clicking 'Add Playlist' will show playlists Rockbot recommends for you based on your vertical, and allow you to search for more.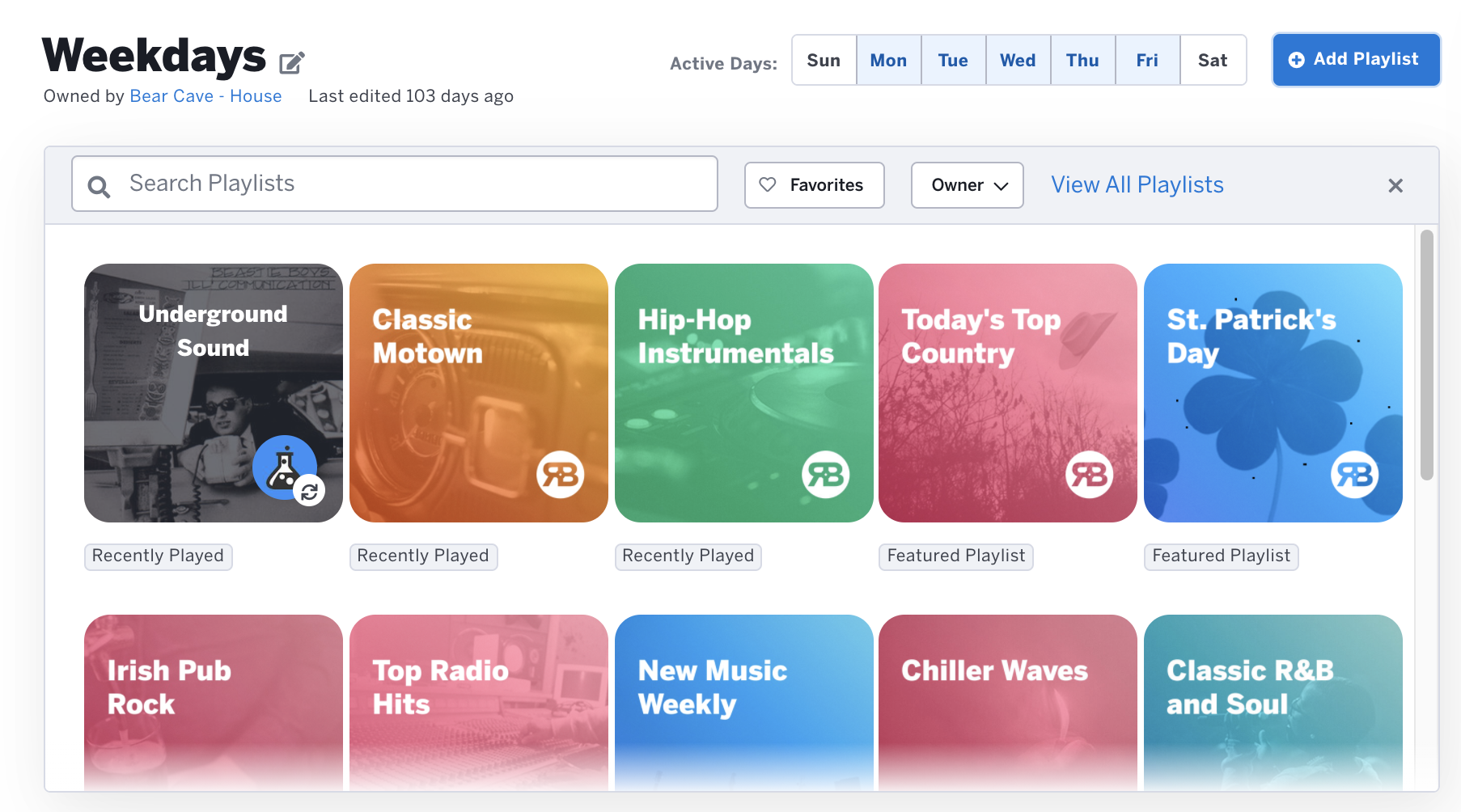 Want more options? Clicking 'View All Playlists' will take you to the
Playlist Browser
. You can add more playlists to your Schedules from there and return to this UI at any time to set times of day for each of them.
Once you have added your playlists to your schedule, the next step is to set when they will play. Use the sliders to set when each playlist will begin and end playback. If playlists overlap, song playback will be randomized across all active playlists.

If desired, you can use the dropdown menu at the right of the playlist row to adjust the priority of each playlist and adjust frequency. When you have multiple overlapping playlists scheduled, the priority will determine how often tracks from each of them are played. A Low priority Playlist will be half as likely to play as a High priority one.
Note that other factors - notably how many songs are in each playlist - may also impact play frequently.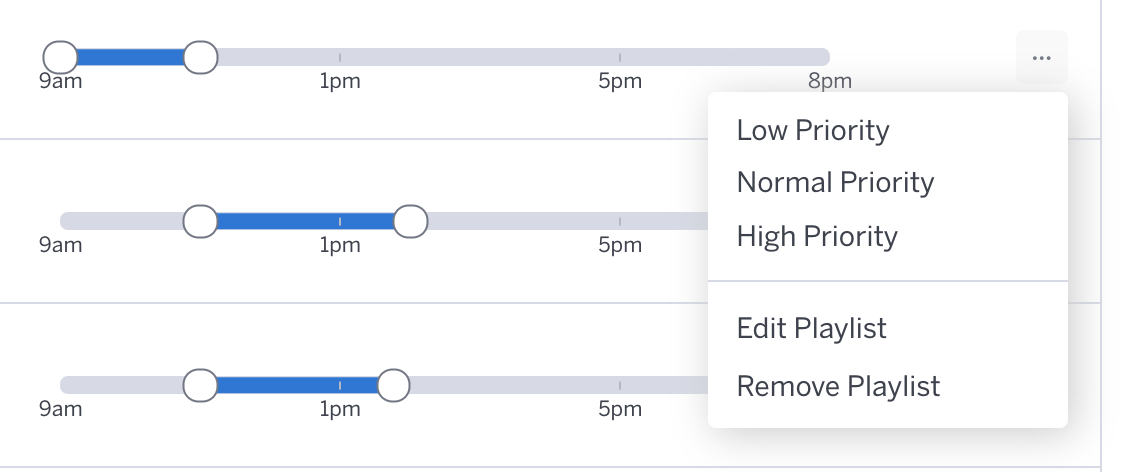 You can also use this menu to remove a playlist, or to launch the Playlist Builder if you have permission to edit it.
Applying Schedules
If you only have a single schedule, your music will play the same playlists in the same order every day. If you want more variety, you can create as many schedules as you want and swap them out based on days of the week or for special occasions and holidays. When you create your second schedule, a left bar with a list of all available schedules will appear. Your active Schedule is indicated with a blue dot in the left bar.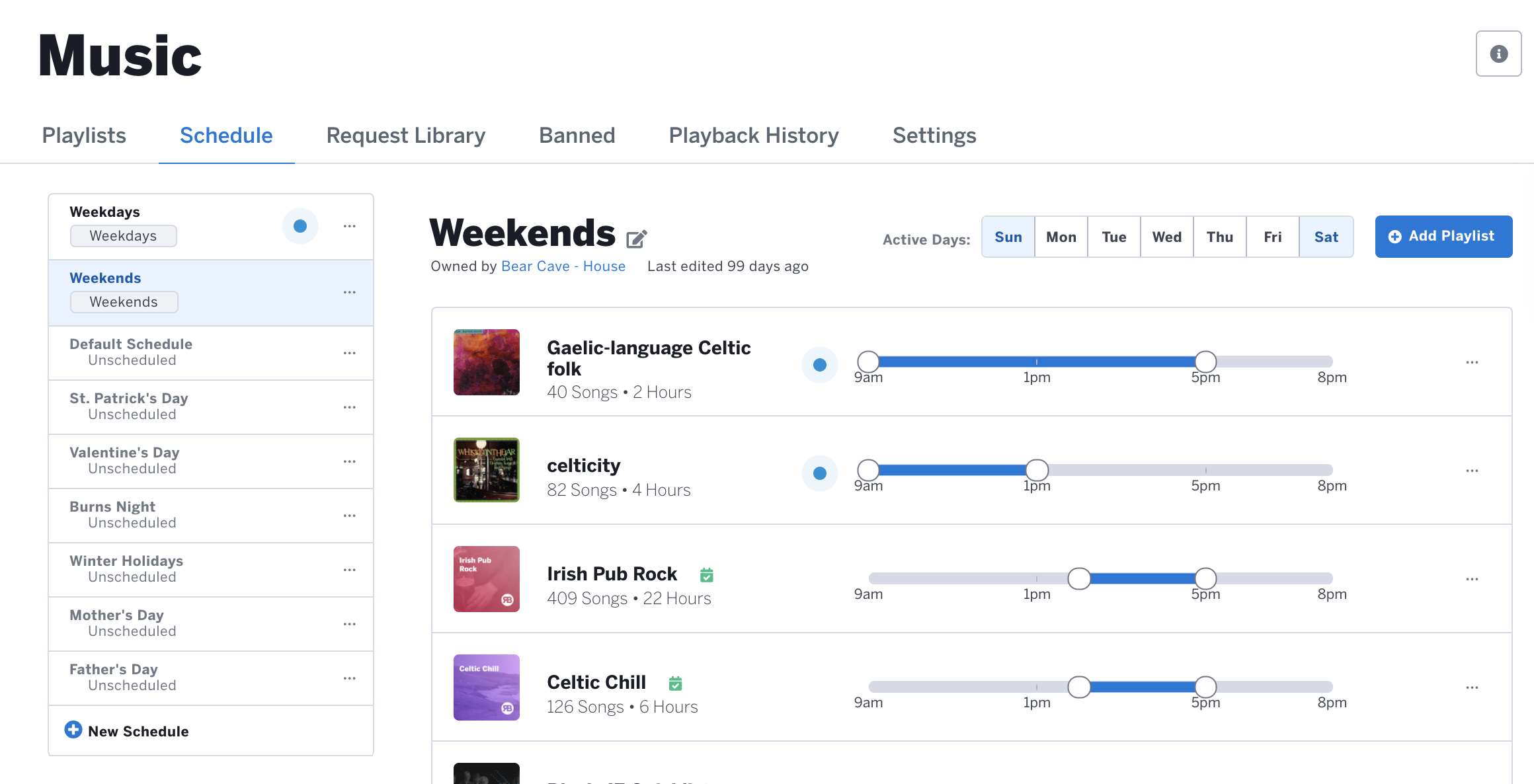 Select the schedule you want to edit by clicking on it from this list.
Once you have selected your schedule, you can control which one is active on which days by setting the days of the week they will play.