Playlists are how you create and manage the songs that you want to play using Rockbot. Depending on your organization, you will have access to Rockbot's library of hundreds of human curated playlists, Rockbot AI playlists curated surrounding some of your favorite artists, as well as the ability to import playlists from Spotify or Apple Music.
The Playlist Browser is the main interface you will use to search through all of the Playlists available to you, add them to your Schedules, or select them for a temporary override.
Some organizations may use Permissions or the Approved Playlists setting to restrict access to Playlists so that franchisees and local managers cannot create custom lists, can only access approved Playlists, or cannot access Playlists at all and can only use Schedules created by the brand.
You can quickly see what restrictions (if any) have been placed on your account by checking your permissions.
Should you have access to Playlists, the Playlist Library is your starting point to access Rockbot's extensive music catalog.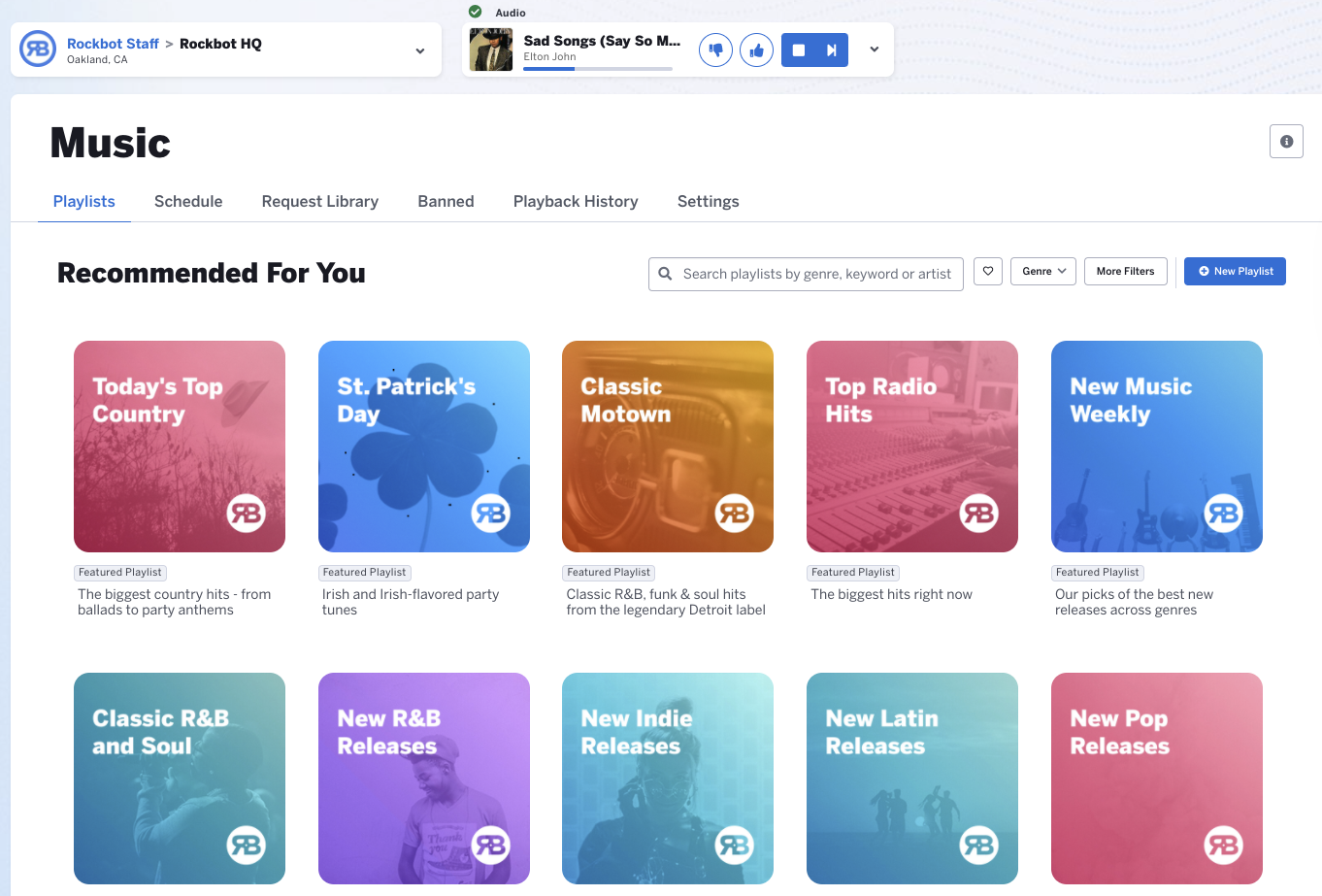 Within the tile view of Playlist library there are several ways to find content. You can use the ownership filter to toggle between
All Playlists
Rockbot Playlists
Playlists owned by your group and your teammates
Playlists that you created and own. (Note that if you are restricted to only group-owned playlists or approved playlists, this filter will not appear).
You may also use the search bar to search for terms used on playlist names as well as playlists containing specific songs or artists. Finally, you can filter by Genre, Vibe, Energy level, Content rating, Era, or Region / Language
Adding Playlists to a Schedule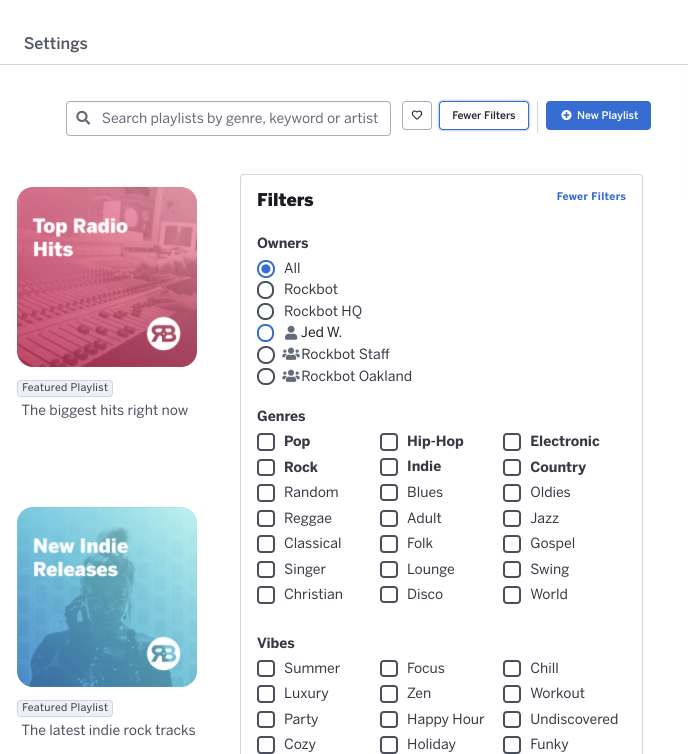 From the Playlist browser, you can easily add a Playlist to a schedule by hovering over a Playlist tile, clicking the + icon, and selecting "Add to Schedule."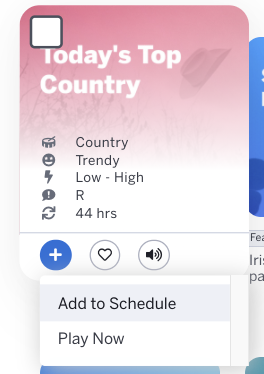 You can also select multiple Playlists by clicking the checkboxes at the top left of their tiles, and use a batch action to add them all.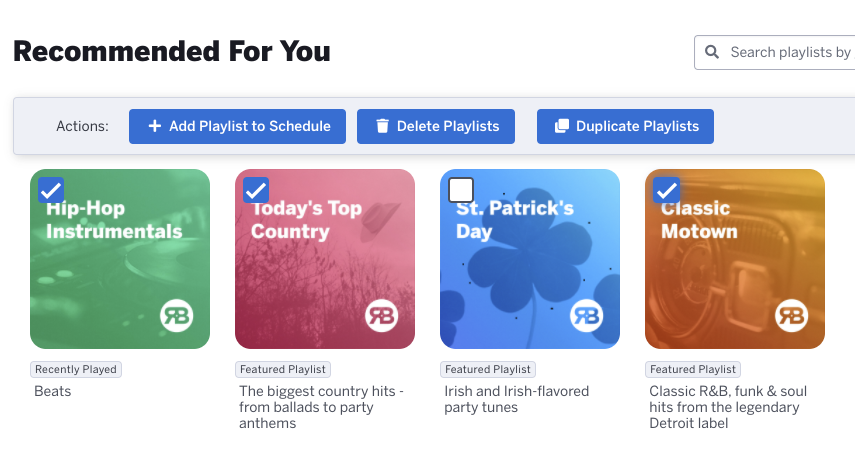 Using one of these methods will launch a pop up with a list of all your current Schedules.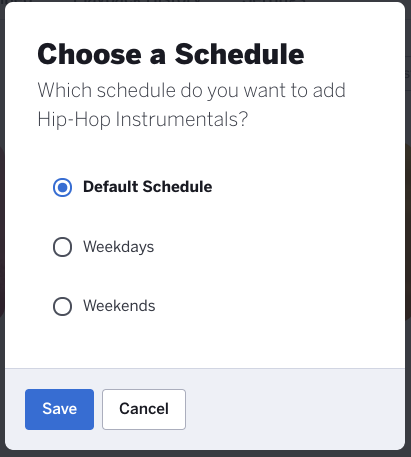 Duplicating a Playlist
If you want to create a custom Playlist and use one of Rockbot's Playlists as your starting point, check the boxes for one or more Playlists, select the "Duplicate Playlists" batch action, and pick who the owner should be.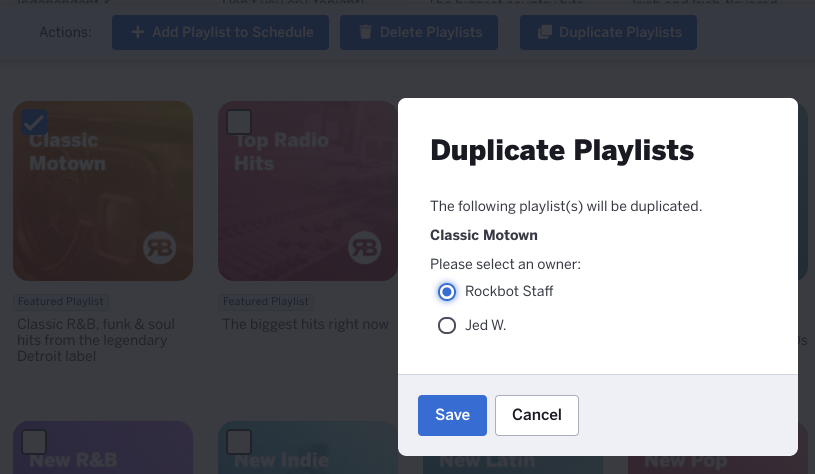 For most organizations, we strongly recommend that Playlists should be owned by your Zone or Group - not an individual. This will help you against staff turnover and make collaboration easier since a Group or Zone-owned Playlist can be edited by anyone who has the appropriate permissions for that Zone or Group.
Playlists owned by an individual can only be edited by that individual.
Playlist Overrides
You may also temporarily override your schedule from the Playlist browser by hovering over a Playlist tile, clicking "Play Now," and selecting the duration. This allows you to change your music on the fly without editing your Zone's long term Schedule.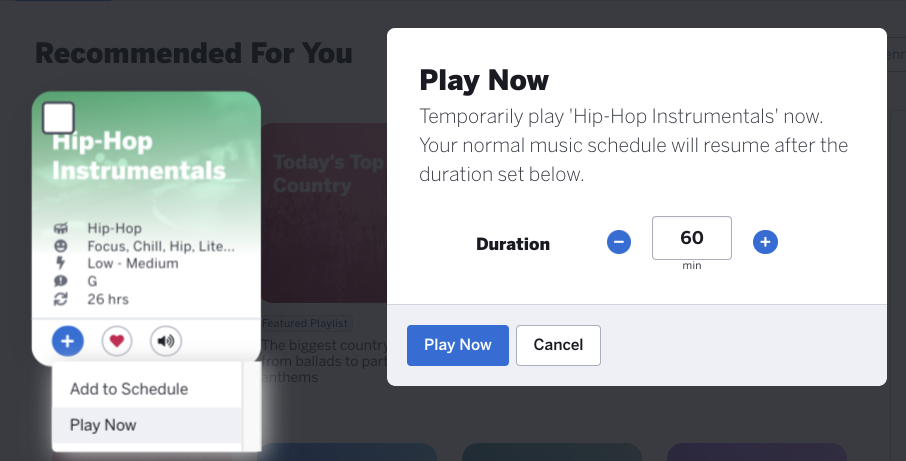 Clicking on a Rockbot-owned Playlists title will take you to the Playlist Detail page where you can search its content and customize it to fit your business. Clicking on a playlist you have edit permissions on will instead take you to the Playlist Builder.