When using Rockbot TV across multiple screens you will likely want to distribute a single video source (the Rockbot player) to your screens. In order to distribute that signal you will need some additional hardware and/or wiring. Below are some recommended options depending on your needs and setup.
HDMI Splitting
If you are connecting up to four TVs to your Rockbot Player HDMI splitting may be the most affordable option. Simply connect a splitter to the Rockbot HDMI out and then each TV is connected to an HDMI cable from the spitter. The biggest limitation of using is HDMI is that TVs can be no more than 50 feet from the Rockbot Player.
HDMI Splitters come in 1x2 or 1x4

Consider HDCP Compliant devices

Maximum Length - 50 feet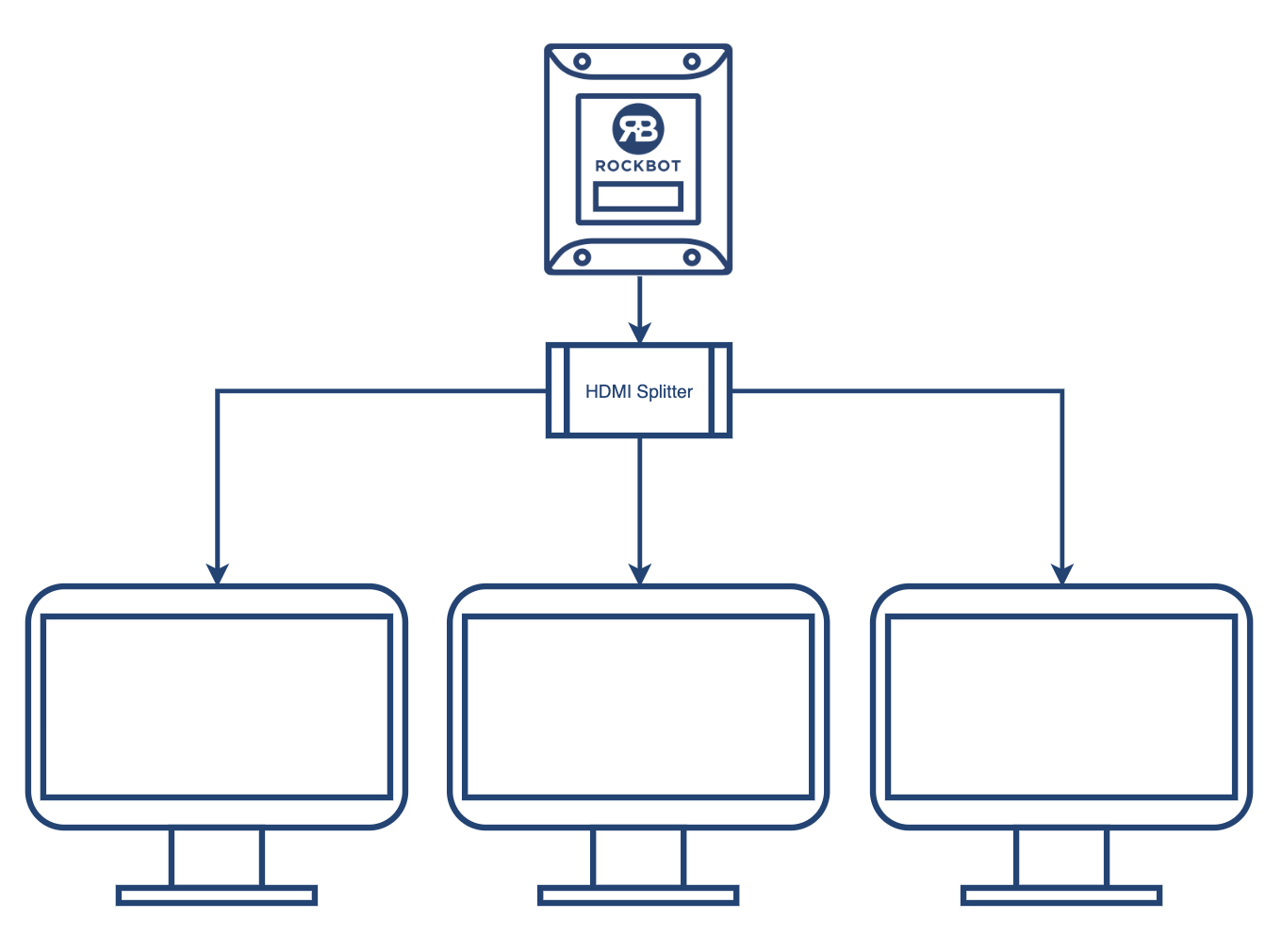 RF Distribution (Coaxial Cable)
For larger-scale distribution, radio frequency over coaxial cable is a reliable way to connect Rockbot TV to many screens across long distances within the same system. RF modulation requires a modulator device that connects to the Rockbot TV and sends out an RF signal. The RF modulator is programmed to a particular TV channel (1-999) allowing you to simply tune your TV to that channel to display the Rockbot TV. RF modulation may be best where you already have coaxial cable run to your screens from a central location.
RF Modulator

Single Channel

Multi-Channel

Coaxial Cable, Maximum Length - 500 meters

Moderate costs for wiring

Very long range
Media over IP
Similar to RF Distribution, an IP driven media system can distribute media over long distances within the same local area network (LAN). Media over IP requires a bit more hardware, but has low costs for wiring and is the most future-proof system. Media over IP uses standard ethernet cable along with several pieces of hardware to send the Rockbot TV signal. A transmitter connects to the source, which connects to your LAN. Each connected TV requires a head-end decoder to translate the media signal and display it on the TV.
Media over IP Transmitter and Decoders

1 transmitter per source, one decoder per TV

Ethernet Cable (Cat 6)

Low cost and long-range - 100 meters